Asia and the Pacific
The Asia and Pacific concentration—which encompasses East, South, and Central Asia along with the Pacific and the Indian Ocean—offers students the opportunity to explore gender, class, race, and ethnicity through the examination of premodern and modern empires and nations, their borders and peripheries, and their flows of people, materials, and ideas. Major topics of focus include the early modern and modern eras, Western and Japanese imperialisms, labor and other major social movements, socialist transformations, and cultural, intellectual, and science history.
---
Major Requirements
The history major requires a minimum of 12 unique courses. At least eight of the 12 courses must be upper-division (HIS 100-199). A maximum of four courses, including the introductory survey course, may be lower-division (HIS 1-99).
Region of Concentration: Asia and the Pacific (6 courses)
I. One lower-division introductory survey course:
HIS 40A and 40B satisfy the Cross-Cultural Analysis (CC) general education requirement. HIS 44 satisfies the Ethnicity and Race (ER) general education requirement.

II. Four additional Asia and the Pacific courses, three of which must be upper-division
III. One Asia and the Pacific Comprehensive Requirement
Historical Skills and Methods (1 course)
IV. HIS 100, Historical Skills and Methods
HIS 100 introduce history majors to historical methods and provides preparation for advanced historical research. Students develop critical reading, historical analysis, research, and disciplinary writing skills. HIS 100 also satisfies the Textual Analysis and Interpretation (TA) general education requirement.
Students who enter UCSC as frosh are expected to complete HIS 100 by the end of their second year. Transfer students are expected to complete HIS 100 no later than their second term at UCSC.
Catalog of Course Requirements
The History Catalog of Course Requirements indicates what region(s) of concentration and what chronological distribution requirement(s) individual history courses may apply toward.
Breadth Requirements (4 courses)
V. Two courses from each of the remaining two regions of concentration:
Upper-Division Elective (1 course)
One additional upper-division history course of your choice from any of the three regions of concentration
Distribution Requirements
Of the 12 courses required for the major, at least three must meet chronological distribution requirements. One must be set before 600 C.E., and two must be set in periods prior to the year 1800 C.E.
Intensive Major Option
The intensive history major offers students a pathway to enrich their study of history, refine their skills in writing and research, and receive a designation on their transcripts that signals their ambition and accomplishment to potential employers and graduate schools. All history majors are eligible to declare the intensive track, including junior transfers. If a student attempts but does not complete the intensive track they may still graduate with a standard history degree, provided the appropriate major coursework has been completed.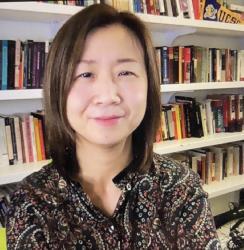 Pronouns she, her, her, hers, herself
Title
Division Humanities Division
Department
Phone
Email
Office Location

Humanities Building 1, 541

Office Hours Winter 2023: Wednesday 12:30-1:30 pm or by appointment at Humanities 541 or via zoom. Email for link.
Mail Stop History Department
Mailing Address

1156 High Street
Santa Cruz CA 95064

Faculty Areas of Expertise

China, Globalization, World History, Cultural Studies, Asian Studies

Courses HIS 80C: Global China, HIS 140D: Recent Chinese History
Advisees, Grad Students, Researchers Joshua Tan, Ania Mah Gricuk
Summary of Expertise
Modern and contemporary China through transnational, diasporic, and oceanic approaches
Research Interests
Coastal south China and Southeast Asia from the 18th to 20th centuries; history of Chinese migration and diaspora
Biography, Education and Training
I am a historian of transnational and modern China. My interests lie in the intersection of diasporas, nations, empires, regions, and genders. I am a proud alumna of the UCSC History graduate program, having received a Ph.D. here in 2009. Before my return, I taught at the University of Wisconsin-Madsion from 2011 to 2020 and at the University of Victoria from 2009 to 2011.
I am the PI of the Transnational China research hub seeded by the UCSC Office of Research. Additionally, I am an appointed member of The American Historical Review's Board of Editors for East Asia and the Pacific World.
My recent book, Diaspora's Homeland: Modern China in the Age of Global Migration (Duke University Press, 2018), examines how Chinese mass emigration in the nineteenth and twentieth centuries changed China. It also proposes the reconceptualization of diaspora as moments, rather than simply as communities. Diaspora's Homeland was shortlisted for the 2019 International Convention for Asia Scholars (ICAS) Humanities Book Prize.
Building on this study, I continue to search for other frameworks to explain Chinese politics, culture, and identity, and to better capture their complexity, diversity, and contradictions. My current research explores a series of keywords in Chinese history through a transnational lens. A larger project focuses on the disapppeared Nanyang ("South Seas') as an oceanic borderland connecting coastal China and Southeast Asia from the late 18th century to the mid-20th century.
Prospective graduate students who would like to work on any transnational and transregional aspect of modern Chinese history, and/or with a broad interest in South China and the maritime world are encouraged to contact me via email.
Honors, Awards and Grants
Principal Investigator, Transnational China Research Hub, seed grant awarded by UCSC Office of Research, 2022-23.
Shortlist for the International Convention for Asia Scholars (ICAS) Humanities Book Prize, 2019.
Visiting Senior Research Fellowship, Asia Research Institute, National University of Singapore, 2019.
Project Director, Title VI National Resource Center and FLAS Fellowships, Center for East Asian Studies, University of Wisconsin-Madison, 2018.
Selected Publications
Diaspora's Homeland: Modern China in the Age of Global Migration. Durham, NC: Duke University Press, March 2018.
"The Case for Diaspora: A Temporal Approach to the Chinese Experience." The Journal of Asian Studies Vol. 74, No. 1 (February) 2015: 107-128.
"The Disobedient Diaspora: Overseas Chinese Students in Mao's China, 1958-1966." The Journal of Chinese Overseas Vol. 10, No. 2 (November) 2014: 220-238.
"Rethinking the 'Left-Behind': A Case of Liberating Wives in Emigrant South China in the 1950s." In Proletarian and Mass Migrations: A Global Perspective on Continuities and Discontinuities in the 19th and 20th Centuries, Dirk Hoerder and Amarjit Kaur, eds. Studies in Global Social History, Marcel van der Linden, series ed., Leiden: Brill Publishers, 2013.
Teaching Interests
Social and cultural history; China in transnational and global perspectives