Graduate Student Directory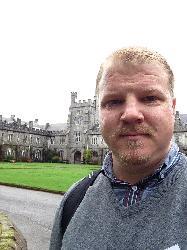 Title
Division Graduate Studies Division
Department
Email
Website
Office Location

Humanities & Social Sciences Building, N/A

Humanities & Social Sciences Bldg, rm 150 (Grad Lab)

Mail Stop History Department
Research Interests
Masters Thesis (2014): A War for Small Nationalities: The Great War, Nationalism, and the Irish Conscription Crisis of 1918
http://content.lib.utah.edu/cdm/singleitem/collection/etd3/id/2886/rec/106
Research Interests include: 20th Century British Empire, Anglo-Irish Relations, Irish Nationalism, Decolonization, Citizenship and Empire, British Social History, British Cultural History, Modern Irish History and Commonwealth History.
Biography, Education and Training
Education
MA, Modern European History, University of Utah, 2014
BA, History, San Jose State University, 2012
Teaching (TA) Experience

HIS 167A, The First World War, Fall 2018
HIS 60, Medical and Scientfic Terminology (Online), Summer 2018
HIS 174, History and Culture of Espionage, Spring 2018
HIS 70A, Modern Europe 1500-1815, Winter 2018
HIS 181, Modern Britain, Fall 2017
HIS 71 The Holocaust, Summer 2017
HIS 70B Modern Europe, Spring 2017
HIS 70A Modern Europe, Winter 2017
HIS 181A Postcolonial Britain and France
HIS 71 The Holocaust: Destruction of European Jewry, Summer 2016
HIS 75 Film and the Holocaust, Spring 2016
HIS 30A Making of Modern Africa, Winter 2016
HIS 70A Modern Europe, Fall 2015
HIS 39B, Hurricane Katrina, Summer 2015
HIS 70A, Modern Europe, Spring 2015
HIS 65A, Medieval Europe, Fall 2014
Teaching Certificates

Inclusive Teaching (CITL Program), Spring 2018
Teaching with Technology (CITL Program), Winter 2018
Honors, Awards and Grants
Royal Historical Society Research Fellow 2018
UCSC History Department Dissertation Research Fellowship 2018
Humanities Institute at UCSC Summer Research Fellow 2018
Institute of Humanities Research at UCSC Summer Research Fellow 2017
UCSC History Department Dissertation Research Fellowship 2017
UCSC History Department Pre-Dissertation Fellowship 2016
UCSC Regents Fellowship 2014-2015
Award for Best Dissertation/Thesis, University of Utah History Department, 2014
Mildred G. Winters Memorial Scholarship, San Jose State University History Department.
Selected Publications
"A War for Small Nationalities: The Great War, Nationalism, and the Irish Conscription Crisis of 1918" Published in Decies Journal, Waterford Archaelogical and Historical Society. November 1, 2018
The British Empire: A Historical Encyclopedia Four Entries: Ireland, Anglo-Irish War, Eamon de Valera, and HMS Empire Windrush. (Santa Barbara, CA ABC-CLIO Publishers, 2018) July 2018
Selected Presentations
"By the Accident of Birth: British Subjects, Free State Citizens, and the Irish Diaspora in Interwar Britain" Presenter and Panel Organizer, North American Conference on British Studies Providence, Rhode Island October 25-28, 2018
"Reconsidering Citizenship: Decolonization and the Irish Free State" presented at Pacific Coast Conference for British Studies. Victoria, British Colombia, March 3-5, 2017
"A Declaration of War: The Press, Parliament, and the 1918 Irish Conscription Crisis" presented at "Ireland and the First World War Conference" at University College Cork. Cork, Ireland. January 24-25, 2014.