Graduate Student Directory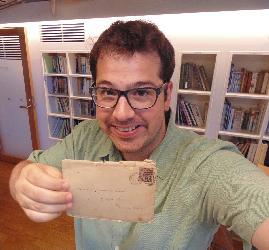 Title
Division Humanities Division
Department
Phone
Email
Office Location

Humanities Building 1, 535

Office Hours In Person: Mondays, 10am-Noon / Zoom Office Hours Available Upon Request
Mail Stop History Department
Research Interests
I'm broadly interested in the intersections of the supernatural and media in modern Japan. I am interested in things like the relationship of feng shui, rumour, and radio projects in Okinawa, the occult history of the Japanese post office, and the relationship of Japanese native ethnography, yokai, and early Japanese encyclopediae.

I am also a Co-Director of Curricular Development for the Okinawa Memories Initiative (http://okinawamemories.org). Our online class on Okinawan/Ryukyuan history launches in Fall 2020. If you want to a fresh perspective on East Asian history, please check it out!
Research Keywords: East Asia; Modern Japanese history; Media studies; Monsters, Yokai, and the Supernatural; Folklore; Minzokugaku;
I am a visiting research fellow at Kokugakuin University for the 2020-2021 academic year. To meet with me, please schedule a zoom appointment by e-mail (dkrichar@ucsc.edu).
Biography, Education and Training
Education
2016-22 PhD In East Asian History
University of California Santa Cruz
Dissertation: Mediating Monsters: Placing Yokai in Modern Japan, a Media History
2018 MA in History
University of California Santa Cruz
Thesis: Subversive in Nature?; or, When Found, Make Note Of: Minakata Kumagusu's Database Collaborations in Notes & Queries
Japanese Language Training and Education Abroad

2020-2021 Visiting Research Fellow
Kokugakuin University
2019-2020 Inter-University Center for Japanese Language Studies
10-Month Program
Honors, Awards and Grants
2020-2021 Kokugakuin University Visiting Fellows Program
2019 Toshiba International Foundation Summer Fellowship
2019-20 Nippon Foundation Fellows Scholarship
2019 The Humanities Institute Summer Research Fellowship
2018 Social Science Research Council Dissertation Development Program
2017 The Middle Ages in the Wider World Research Grant
2016 Regents' Fellowship
2015 Kadokawa Culture Promotion Foundation: Media-Content Research Project "Mediated World," University of Tokyo