The History Department is pleased to announce the winners of the inaugural First Generation Student Scholarships: Evangelia Magkolas, Starr Mitchell, and Markus Faye Portacio.
The First Generation Student Scholarship was established in 2021 by former and current History Department Chairs Matt O'Hara and Lynn Westerkamp, and aims to support first generation students' pursuit of their academic goals.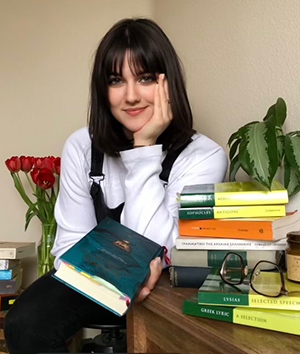 Evangelia Magkolas partially attributes her passion for Classical Studies to her Greek homeland, and to her father. "I loved listening to my father's accounts of the ancient legends, myths and history," Evangelia states. "I always knew Classics was what I wanted to pursue, yet I would have never guessed that, years later, I would be reading Homeric Greek on a different continent, [or] studying Ancient Greek amidst forests, turkeys and deer in Santa Cruz." After graduating from UC Santa Cruz in June, Evangelia will be pursuing a Post-Baccalaureate degree in Classics at UCLA, and hopes to participate in programs sponsored by UCLA's Cotsen Institute of Archaeology. "It is for this reason, specifically, that [the First Generation Student Scholarship] will be aiding my studies' advancement," says Evangelia. "I would like to have the means to be able to partake in one of Cotsen's . . . programs, [such as their] excavating endeavors in Greece or Italy."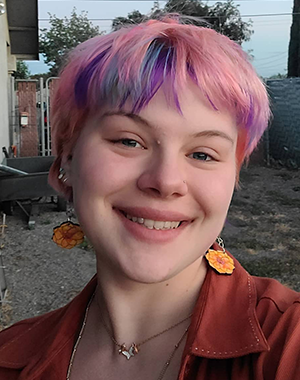 In Starr Mitchell's words, being a History major "is about adapting to change, [and] not allowing myself to remain only in the past, but rather ensuring that I examine the ways in which history impacts today." A current student at UC Santa Cruz, Starr hopes to devote part of the 2021-2022 academic year to studying abroad, their preference being the University of Oslo in Norway, where they would like to engage in coursework "that examines the foreign policies of the United States government from 1898 to the present, while emphasizing the deep and complex relationship the U.S. has with the rest of the world." Starr is particularly drawn to the study of U.S. foreign policy, as well as "the impact the United States has had on a global scale, specifically when it comes to topics such as transnationalism and globalization." Starr says that the First Generation Scholarship "would help me be successful in doing something I had never imagined for myself growing up: travelling abroad."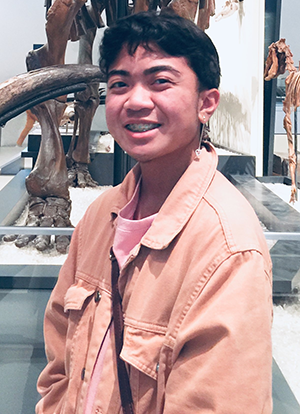 Markus Faye Portacio is a double major in Anthropology and History. As Portacio states, "utilizing practices from both of my majors allows me to develop the research I wish to do in the future. History, to me, as a discipline goes beyond creating a chronology. [It also helps us] understand our world. As a future scholar in Philippine studies, history is a discipline that helps us recover aspects of our culture and history that were lost to colonialism." During his undergraduate career at UC Santa Cruz, Portacio has participated in several seminars and conferences, and engaged in original research on the topic of how Philippine mythology is depicted in comic books – and what this says about the Filipino creators' identities. "With the money from this scholarship, I hope to use it to turn [my original] research into a senior thesis. [The scholarship funds ] would be used mainly for purchasing texts, both for the classes I take for my last year and my own research."
Congratulations to Evangelia, Starr, and Markus on their many accomplishments! The History department wishes them nothing but the best in their future endeavors, at UC Santa Cruz and beyond.