History Graduation Celebration 2020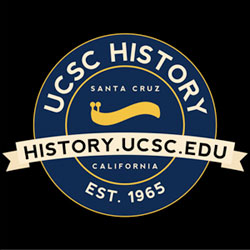 The 9th Annual History Department Graduation Celebration will be held:
Thursday, June 11th, 2020
1:30 - 3:00 pm
Cowell College Provost House
This celebration will be for all graduates of the 2019 - 2020 Bachelors of Arts (B.A.) programs in History, Classical Studies, Jewish Studies, and German Studies, and their friends and families (up to four guests per student).
This event is not a formal commencement ceremony. No cap and gown needed! It is an opportunity for faculty and students to socialize and celebrate together. There will be a brief program of remarks and all students will receive a graduation cord for their respective major. A light lunch will be served.
For more information, please contact history@ucsc.edu.
---
Remarks from the 8th Annual History Graduation Celebration
Madeleine Turner, Graduating History Major
Aren Kurkjian, Graduating History Major
Gail Hershatter, Distinguished Professor of History
Remarks from the 7th Annual History Graduation Celebration
Alexandra S. Machuca, Graduating History Major
Julie Howell, Graduating History Major
Matthew Lasar, Lecturer in History
Remarks from the 6th Annual History Graduation Celebration
Genevieve Ortilla, Graduating History Major
Elizabeth Borst, Graduating History and Literature Major
Kylie Carpenter, Graduating History Major
Bruce Thompson, Lecturer in History and Jewish Studies
Remarks from the 5th Annual History Graduation Celebration
Ashley Leib, Graduating History Major
Rafferty Lincoln, Graduating Classical Studies and History Major
Grace Peña Delgado, Associate Professor in History
Remarks from the 4th Annual History Graduation Celebration
Marley Lix-Jones, Graduating History Major
Gregory O'Malley, Associate Professor in History
Remarks from the 3nd Annual History Graduation Celebration
Helen Elizabeth Porter, Graduating History Major
Simon Stokes, Graduating History Major
Alan Christy, Associate Professor in History
Remarks from the 2nd Annual History Graduation Celebration

Katherine Grow, Graduating History Major
Grace Anello, Graduating History Major
Remarks from the 1st Annual History Graduation Celebration
Ashley Ann Overhouse, Graduating History Major
Elizabeth Weidner, Graduating Classical Studies Major