The UCSC Center for World History and the History Department presents:
Urmi Engineer Willoughby
"Cultivating Malaria in the Gulf South, 1718-1860"
January 15, 2020
4:00 pm - 5:30 pm
Humanities 1, Room 520
In this talk, Urmi Willoughby will present her research on agriculture, development, and the growth of endemic fevers in lower Louisiana. She will explore why fevers spread in the borderlands of the Gulf South and lower Mississippi Valley in the eighteenth and nineteenth centuries, and show how economic and agricultural systems associated with white settlement and plantation slavery fostered the spread of malaria and yellow fever. Malaria grew endemic in new settlements and plantations as newcomers cleared forests, drained swamps, and grew rice and maize. Yellow fever caused seasonal epidemics in the built environment of New Orleans, as a result of ecological changes caused by sugar plantations and urban construction. Studying these processes in a global framework, this project considers the Gulf South region as a representation of global patterns of development and ecological change in fostering the growth of malaria and yellow fever in diverse geographical and historical contexts.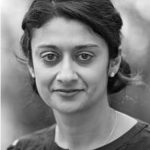 Urmi Engineer Willoughby is the current Molina Fellow in the History of Medicine and Allied Sciences at the Huntington Library and the author of Yellow Fever, Race, and Ecology in Nineteenth-Century New Orleans (LSU Press, 2017). She completed her Ph.D. in History at UCSC.
This lecture is made possible by the generosity of Thom Gentle (Cowell '69, History), a pioneer class alumnus who established The Thom Gentle Endowment for History to support student awards in environmental history as well as lectures of distinguished speakers with an environmental emphasis.