The Undergraduate History Showcase is an annual event held each spring that recognizes the exceptional research conducted by UC Santa Cruz history undergraduates. In addition, a history alumnus delivers a keynote address in which they expound on the valuable career skills they acquired by majoring in history.
Reception with light refreshments 3:30 - 4:00pm. This event is free and open to everyone!
---
Schedule of Events
Attend all or parts of the showcase as your schedule permits. Start and end times are approximates.
I. Student Presentations - 1:30-2:15 PM
Jessica Chuidian-Ingersoll, "Right to a Roof: The Fight for Rent Control and Tenant Protections in California 1978-1995"
Michele Cole, " 'I Remain an Irishman...and a Jew': Conflicting Identities of Ireland's Jewish Politicians"
Avery Weinman, "Reverberations from the 'Earthquake': Collective Memory and Why Mizrahi Israelis Vote for the Israeli Right"
II. Keynote Address - 2:30-2:50 PM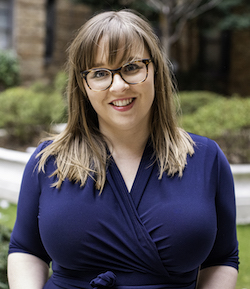 "Following the Money: Research Opportunities in Non-Profit Fundraising"
Juliet Carpenter
Prospect Researcher at the Wildlife Conservation Society
Juliet will discuss her unexpected career in the non-profit fundraising industry and the ways her history degree prepared her for this work. She'll highlight how and why research is a major component of today's fundraising departments, explain her current role as a Prospect Researcher, and share why other history majors looking to utilize their research skills outside of academia should consider this growing field.
Juliet works at the Wildlife Conservation Society, an international non-profit with a mission to save wildlife and wild places worldwide through science, conservation action, education, and inspiring people to value nature. She lives in Manhattan and works out of the Bronx Zoo.
III. Student Presentations - 3:00-3:30 PM
Savannah Dawson, "Virtual Reconstruction of the Tomb of Psamtek"
Miguel Lepiz, "Hollywood's New Women: Reconfiguring Gender, Sexuality, and Obscenity in Los Angeles"
Elena DeNoia, "Murder and Reputation: The FBI and the Black Dahlia Murder"
IV. Reception in the Cowell College Courtyard - 3:30-4:00 PM