Join us on Friday, May 11th for the 8th Annual Graduate Research Symposium. This event offers students an opportunity to share their research with faculty, staff, friends, colleagues and the local community in the form of poster, oral, live or multimedia presentations.
Graduate Research Symposium


University Center
May 11, 2012
1:30 - 4:30 

PM
This year's event featurs 20 oral and live presentations, 100 poster presentations and 5 media presentations, representing a wide range of research from insight into California Sea Otter population, to song and rhetoric in mondern Italy.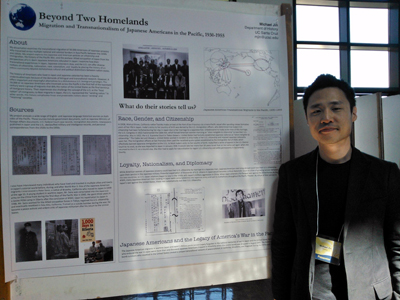 Two of the History department's students will be giving poster presentations at this event:
Beyond two homelands: Migration and transnationalism of Japanese Americans in the Pacific, 1930-1955
Michael Jin
An account of notorious robbers, murtherers, and sporting ladies: Visual culture and English broadside ballads, 1600-1800
Kelly Feinstein-Johnson