Brian Catlos (Associate Professor of History at UCSC and of Religious Studies at University of Colorado, Boulder), along with Sharon Kinoshita (Professor of Literature at UCSC), is co-director of the Mediterranean Seminar, an inter-disciplinary research group which collaborates with scholars in many departments at UCSC, seven other UC campuses, as well as others across North America and the world.
Recently, Catlos and Kinoshita have been awarded funding from the National Endowment for the Humanities (NEH) to direct the third biennial NEH Summer Institute for University and College Professors, in 2012. The theme next year will be "Networks and Knowledge in the Medieval Muslim-Christian-Jewish Mediterranean."
Next year's Institute, like the very successful previous editions, will gather 24 American professors and graduates students for 4 weeks of intensive work in Barcelona in July 2012 with a faculty including leading scholars of different aspects of Christian-Muslim-Jewish relations in the medieval Mediterranean across a range of disciplines. Faculty will include: Charles Burnett (Warbourg Institute), O. Remie Constable (Notre Dame), Peregrine Horden (Royal Holloway), Karla Mallette (U Michigan), George Saliba (Columbia U), and Fernando Salmón (U Cantabria), as well as local scholars. The Institute is organized under the auspices of the Mediterranean Seminar (www.mediterraneanseminar.org), with the sponsorship and support of the UC Santa Cruz Institute for Humanities Research, the UC Mediterranean Studies MRP, The Spanish Ministry of Culture, the Archive of the Crown of Aragon, the Pompeu Fabra University, the Consejo Superior de Investigactiones Cientifcas, and other institutions in Spain and the US.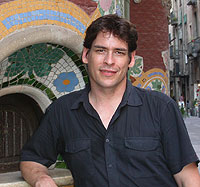 Associate Professor of History Brian Catlos


In addition, Catlos and Kinoshita have been accepted to co-direct "Ethno-Religious Diversity and Cultural Innovation in the Medieval Mediterranean," a workshop session held on March 21-24, 2012 at the 13th Mediterranean Research Meeting of the Robert Schuman Centre European University Institute at Montecatini, Italy. The aim of this workshop is to examine the nature of cultural development and socio-economic relations vis-à-vis ethno-religious diversity in the period roughly from 600–1500CE. In doing so, the hope is to not only address various aspects of medieval cultural transmission and innovation, but to bring into relief the processes of acculturation and exchange manifested within both antagonistic and collaborative contexts. This will not only help to illuminate the role of ethno-religious diversity and cultural creation in the Medieval Mediterranean, but also their role in the emergence of Modernity and their place in the modern world.
At this intensive four-day event, 12 participants (including scholars from the UC system, across North America, and Europe) and the Directors will collaborate to workshop pre-submitted article-length papers in a collegial, inter-disciplinary atmosphere. 
For more information on these exciting events, please visit the
Mediterranean Seminar website.