Historian and UC Santa Cruz alumnus Richard R. "Rick" Warner has been named the Daniel F. Evans Associate Professor in the Social Sciences at Wabash College. Professor Rick Warner is the seventh person to hold the Daniel F. Evans Associate Professorship in the Social Sciences since its establishment in 1995.
"To be named the Daniel F. Evans Professor is a great honor, one that I am humbled by," said Dr. Warner. "I did not know Dan but have heard plenty of stories about this Wabash giant from more mature faculty at the round table in the Scarlet Inn. His commitment to Wabash was powerfully strong, and similar to others who have passed through here such as Paul McKinney and Bill Placher. I feel energized to take my research on Mexico and World History to the next level, thanks to the research and development fund, as well as the encouragement that such an honor naturally bestows."
Dr. Warner came to Wabash as a visiting professor in 1999 and received tenure in 2008. During what was to have been his sabbatical year, Warner stepped in to serve as Associate Dean of Students at the College. He earned bachelor's degrees in religious studies from the University of Vermont and in history (with honors) from the University of California-Santa Cruz. He earned his master of arts degree and Ph.D. in history from UC-Santa Cruz.
Prior to his arrival at Wabash, Dr. Warner taught at UC-Santa Cruz and at the University of Utah. He teaches a wide range of courses — from world history to the history of food — but specializes in Latin American history.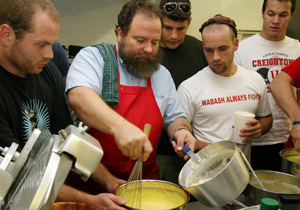 "Rick is already providing intellectual leadership through much-respected teaching and scholarship that is changing instruction in his department, division, and across the College for students and faculty alike," said Dean Phillips in his announcement. "In heavily subscribed courses, he leads students through immersion travel and historical study. He shows the necessary relationship between empathy and intellect, historical consciousness and moral conscience. Whether in the study of religion or corn, whether in Kenya or Mexico, he demonstrates how the liberal arts are an engagement across disciplines, national cultures, and human communities."
The Evans Chair is named in recognition of Daniel F. Evans, Wabash Class of 1943, who served Wabash as a trustee, treasurer, and from 1992-93 as CEO of the College. The Chair recognizes a professor whose teaching and scholarship are admirable and effective, and whose intellectual leadership promises to affect the quality of instruction in his or her discipline and across the College. The holder of the chair is to be a person who has an encouraging and inspiriting effect on the entire faculty.
Dr. Warner helped to develop Wabash's current immersion learning program, and has taken numerous classes on trips around the globe, including last summer's two-week immersion in Kenya. He chairs Wabash's Off-Campus Study and International Studies committees, and is co-chair of the College's Teacher Education Committee.
He has written approximately 30 articles, reviews, and invited conference papers, as well as a number of encyclopedia entries. He has received a dozen grants to support his research and course development.