The Department of History is delighted to welcome Assistant Professor Grace Peña Delgado, whose research examines the nationalism, citizenship, and identity construction of the North American borderlands. Grace will teach courses in Chicano/Chicana history. She is excited to be part of a department with a very serious commitment to excellent undergraduate and graduate teaching.
Grace's first major publication was a co-authored book on Latino immigration, Latino Immigrants in the United States (Cambridge: Polity Press, 2011). This book introduces readers to the largest and fastest-growing minority group in the United States and their diverse conditions of departure and reception.
Published in 2012 by Stanford University Press, her second book, Making the Chinese Mexican: Global Migration, examines Chinese diasporic communities that settled along the U.S. border with Mexico at the turn of the twentieth century.
In describing the project, Grace says, "through the frameworks of social diplomatic, cultural, and transnational history, my book shows how relationships and adjustments between Mexican and Chinese fronterizos (borderlanders) counteracted state-sponsored racism and immigration restrictionism."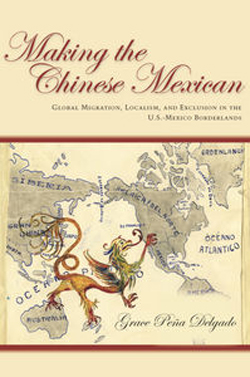 Making the Chinese Mexican was selected as a CHOICE recommended academic title and was described as a "well-researched, significant addition to borderland history and an excellent example of the growing trend toward transnational examinations of borderland regions around the world."
 
Her current project, Sex and State: Immigration Control and Morals Policing at North America's Early Twentieth-Century Borderlands, examines the gender, sexual, and racial dynamics of immigration control at the northern and southern U.S. borders. As Grace notes, "by exploring the lives of gay men and lesbians, prostitutes, concubines, pimps, and those presumed to be such, Sex and State argues that the regulation of sexual and gender identities constructed a system of state surveillance that scrutinized one's potential to become a citizen on the basis of moral fitness, racial suitability, and sexual orthodoxy."  Sex and State is set to be published in the Fall of 2015 by the University of Arizona Press.
 
Grace was a student activist at UCLA during the struggle to create a Chicano/a Studies department at the university. After much activism and organization on the part of the students, faculty, staff and community members, the first department of Chicana/o Studies in the United States was established at UCLA. Grace says, "This experience solidified my career path—to become a historian of the Chicana/o experience." She encourages students to find a topic that they are intensely interested in and put forth a rigorous perspective about it that aspires to change the way in which historians think about and to hone their research and writing skills.