The department is pleased to welcome Assistant Professor Elaine Sullivan. Elaine graduated from John Hopkins University with a Ph.D. in Egyptology in 2008. Her dissertation is entitled: A Case Study in Function and Form: Excavations of a Third Intermediate Period Mud Brick Building in Thebes.
Along with her historical expertise in Egyptology, Elaine is skilled in the field of digital humanities and will be introducing new and emerging technologies into the undergraduate classroom that will provide students with innovative ways to study history.
She is currently directing a projected entitled "3D Saqqara," which harnesses Geographic Information Systems (GSI) technologies and 3D modeling to explore the ritual and natural landscape of the famous cemetery of Saqqara, Egypt, through both space and time. Saqqara served as an ancient cult and burial place for the neighboring capital city of Memphis for over 3000 years. By simulating the original built and natural landscape of the site at different chronological periods, the project investigates the visual environment that shaped, and was in turn shaped by, the experience and choices of ancient peoples. 3D Saqqara demonstrates new techniques for the study of landscape, memory, and identity in the ancient world. It creates four-dimensional visualizations of ancient places that allow for greater understanding of the emotional and physical experience of individual landscapes, as well as how the transformation of these places over time affected peoples' interpretation and memories of these spaces. Elaine has received a number of grants, awards and fellowships, including a Digital Innovation Fellowship from the American Council of Learned Societies for the 3D Saqqara project.
"I am particularly interested in exploring how new technologies can be used in the study of very ancient places," explains Elaine. "Both in my research and teaching, I try to incorporate digital globes, geographic information systems (GIS), 3D modeling, digital mapping, and other technologies to look at data in new ways and to visualize elements of ancient places that no longer exist. I hope that by combining training in traditional Humanistic methods of inquiry with teaching new technologies, my students will come out of my classes having learned many new skills."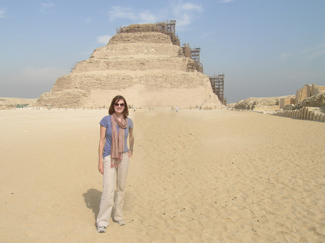 Elaine says that her experience of studying abroad at the American University in Cairo, spending 6 months experiencing Egypt first-hand and visiting archaeological sites she had read about in books and seen on TV, led her to become an Egyptologist.
"Encountering the ancient past in such a tangible way helped me to see that examining past human cultures is an important part of understanding who we are as humans now. Sophisticated ancient cultures like Egypt also remind us that modern people haven't cornered the market on creativity, artistic expression, marvels of engineering, or thought-provoking literature. My time studying Arabic and living in Cairo also forced me to encounter a modern culture profoundly different than the American one in which I was born and raised, and it opened my eyes to the amazing diversity of our modern world (as well as the generosity and kindness of the modern Egyptians)."
Elaine hopes to instill in her students the ability to research efficiently and effectively, to write persuasively with style, and to express their opinions when engaging in an intellectual debate. "If a student can master those skills in their years at UC Santa Cruz," she notes, "they will be set up for success in whatever field they choose to pursue after college."