Two history undergraduates, Cori Hoover and Sophie Short interned with Assistant Professor Elaine Sullivan this year, working on her 3D Saqqara project in the Archaeological Geographic Information Systems (GIS) lab on campus. Cori and Sophie are working to build 3D models of the New Kingdom Egyptian "temple tombs" at Saqqara, utilizing published ground plans for the structures.
Describing her internship, Cori Hoover said, "The Saqqara Project is a GIS program that maps out the tombs of the Saqqara necropolis. I contributed to this project, specifically by constructing 3D models of several New Kingdom Memphite tombs. These tombs varied in size, the most monumental being the Mortuary Temple of King Horemheb and the most modest being the tomb of Ra'ia which was a small limestone chapel."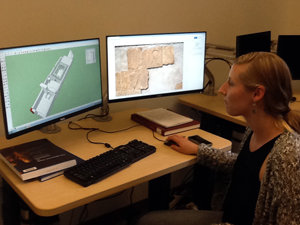 Cori added, "My first class at UCSC was "Intro to Ancient Egypt" and it was taught by Professor Sullivan.  This is the class that changed my life, as I fell in love with Ancient Egyptian history!  Since that first class freshman year I have dived into this subject full heartedly, exploring it through my classes and also through my work with Professor Sullivan.  Professor Sullivan has not only introduced me to Ancient Egyptian History, but she has also shown me how I could analyze history through multiple mediums.  Through Digital history, historians are no longer restricted to a pen and paper, but we can now look into the past through the means of technology." 
Cori Hoover is a third-year history major. She plans to continuing working with Professor Sullivan in her final year and pursue her own research using the skills she's learned through the 3D Saqqara internship.
Sophie Short, who also interned with Professor Sullivan, said, "When I started on 3D Saqqara, the experience was totally new to me and I had no previous knowledge of the software; with Elaine's help, I now feel confident in 3D modeling the ancient world. What I have learned most from Elaine and my experience with 3D Saqqara is knowledge of what studying history means in a modern world. I now see a future for myself in digital humanities, centered specifically on those monuments at risk due to destructive terrorism in the Near and Middle East. If the monuments themselves cannot be saved, then the ability to digitally record these monuments will preserve the diverse histories of people across the globe."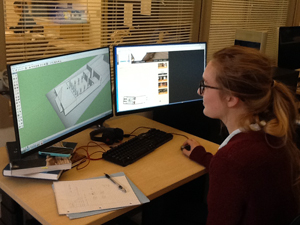 Sophie Short is a fourth-year student graduating this year with Highest Honors in Classics and a minor in History; she received the Humanities Undergraduate Research Award in 2013-14 and studied at New York University in 2014-15.  After graduation, Sophie will continue to use 3D models and GIS systems to reconstruct ancient monuments while participating in archaeological field school.
"It has been really exciting to have Cori and Sophie collaborate with me on my research project on Saqqara. They have both really dived in and done serious reading on the tombs they've modeled, thinking through all the important aspects of reconstructing architecture that in many cases is now deflated or sometimes destroyed down to the foundations," said Elaine.
She added, "I hope they can take the digital and interpretive skills they've honed on this project with them to their future studies and careers.  I think it is so important that our undergraduate students learn the digital skills they will need to do exciting work after they've left us here at UCSC."
Assistant Professor Elaine Sullivan received a Digital Start-up Grant from the National Endowment for the Humanities to develop the 3D Saqqara project, a model and virtual tour that will demonstrate how an ancient Egyptian site evolved over more than 3,000 years.