For over a decade, Professor Lisbeth Haas has been doing research on Indian societies in California. Her studies, analysis, and writing have complemented and deepened her teachings in California and borderlands history here at UCSC. Her most recent project has yielded her not one, but two publications, to be published this year and next.
Professor Haas uses unique primary sources to give her students and readers deeper insight into the subjects she explores. In researching her forthcoming book Saints and Citizens: Indigenous Histories of Colonial Missions and Mexican California (expected in 2012), native sources such as paintings done by indigenous artisans at various California Missions (such as the image below from the Mission in San Fernando, c. 1820) were studied and analyzed.
Haas referred to another primary source during her writing of Saints and Citizens: a manuscript by Pablo Tac, a Luiseño Indian born at Mission San Luis Rey de Francia in 1820. Haas found that Tac's manuscript was key in her research for Saints and Citizens, and she studied it thoroughly. Her close examination and analysis of this work led her to one conclusion—that Tac's writings should be published and be made easily accessible.
A letter Professor Haas received from the U.C. Editorial Committee revealed the importance of the book to the greater academic community: "Most of us who research and/or teach about early California have tried to use Tac's writing…the problem is that we haven't known how to make sense of his work." In order to finally make sense of it, Haas did extensive research to place Tac's writings in their context. Professor Haas pored over literature by colonial and early 19th century indigenous scholars, as well as books by linguists, anthropologists, and art historians of the U.S. and Latin America. She set out to reconstruct the life of Pablo Tac, piecing together his personal history as she traveled to Rome, where Tac had studied, among many other places, and as she collaborated with members of the Luiseño community in northern San Diego county to learn more about their history, language, and culture.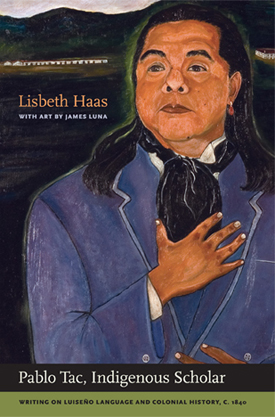 The project that emerged from Professor Haas' research and collaborations with artist James Luna, linguist Eric Elliott, and various other members of the Luiseño community, is a multi-layered book featuring historical writing, artistic interpretation of Tac's work, a foreword written by the Luiseño Band of Mission Indians, and of course Tac's writing, both in its original language and in translation. Professor Haas' book, the culmination of her deep research, tells the story of the remarkable life of Pablo Tac and analyzes his manuscript, focusing on the way Tac documents colonialism through Luiseño cultural perspectives. Professor Haas shows the reader how Pablo Tac's work offers a record that is unique for the writers of his time, and is therefore very valuable to scholars of this period of history. Pablo Tac, Indigenous Scholar Writing on Luiseño Language and History, c. 1840, will be published in December of 2011.