Faculty Directory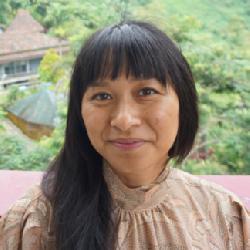 Pronouns she, her, her, hers, herself
Title
Division Humanities Division
Department
Affiliations Center for Southeast Asian Coastal Interactions (SEACoast), Science & Justice Research Center
Phone
Email
Website
Office Location

Humanities Building 1, 539

Office Hours Fall 2022: Mondays 1-3pm in person or by appointment
Mail Stop History Department
Faculty Areas of Expertise

The Philippines, Southeast Asian Studies, History of Science, Colonialism, Science Studies

Courses Fall 2022: HIS 143B: History of the Philippines, 1815 - Present
Summary of Expertise
Philippine history, science and technology studies, Southeast Asian studies, history of botany
Research Interests
Modern and contemporary Philippines, plant studies, comparative Spanish and U.S. colonialisms, weaving and textile technologies, agricultural history, agricultural practice, farmworker migration, botanical nomenclature, scientific labor, botanical illustrations, postcolonial STS, vernacular studies
Biography, Education and Training
I am interested broadly in the politics of plant life and floral world-making in modern histories of the Philippines and Southeast Asia. Currently, I am developing a book manuscript, Sovereign Vernaculars in the Philippines at the Dawn of New Imperial Botany, that expands the "vernacular" in the history of colonial botany and examines ongoing epistemological tensions during the science's internationalist acceleration.
My next project, one drawing on oral histories tentatively titled The Cold War Philippines in Five Plants, examines five plant species (e.g. the Tricyrtis imeldae, named after former First Lady Imelda Marcos) as lenses into the plant sciences in the Cold War Philippines and the neighboring decolonized states of Southeast Asia. I build on literature that has prioritized U.S. foreign policy, the Marcos dictatorship, and civil unrest to contend that plants—and the scientists behind their study—were also instrumental to the political maneuvering of the era.
I welcome practice-oriented fieldwork that can expand and challenge the historical questions I bring to my scholarship. To that end, I pursue interdisciplinary collaborations with scholars in the United States and abroad. Previous collaborations have led to field research among northern Philippine textile weaving and dyeing communities, herbarium plant collecting, and a digital exhibit with UK-based artist Liz Orton called "The Herbarium of Endangerment." Presently, I am working with The Tobera Project, an energizing team of UCSC colleagues, and community researchers on Watsonville is in the Heart, a campus-community initiative to preserve stories of the first generation of Filipino farmworkers in Watsonville and in the greater Pajaro Valley, CA.
Ph.D. South & Southeast Asian Studies, University of California, Berkeley
with a Designated Emphasis in Science and Technology Studies and a Certificate in Teaching and Learning in Higher Education
M.A. South & Southeast Asian Studies, University of California, Berkeley
B.A. Public Health and South & Southeast Asian Studies, University of California, Berkeley
Honors, Awards and Grants
Fellow, Interdisciplinary Residency, Oak Spring Garden Foundation, 2022
Faculty Research Grant, Committee on Research, 2022
Shortlist, Best Dissertation in the Humanities, International Convention of Asia Scholars, 2021
Andrew W. Mellon Fellowship, Humanities Institute of the New York Botanical Garden, 2021
Humanities for All Quick Grant, California Humanities, 2021
Collaborative Projects Award, with Christina Ayson Plank and Steve McKay (co-PI), Arts Research Institute, 2021
Graduate Student Professionalization Workshop Grant, with Elizabeth Hargrett and Massimo Mazzotti (PI), UC Humanities Research Institute, 2020
Dibner Fellowship in the History of Science and Technology, The Huntington Library, 2019
Bordin-Gillette Research Fellowship, Bentley Historical Library, University of Michigan, 2018
Mellon International Dissertation Research Fellowship, Social Science Research Council, 2017
Fulbright-Hays Doctoral Dissertation Research Fellowship, U.S. Department of Education, 2017
RISE Leadership Award, Gender Equity Resource Center, UC Berkeley, 2017
Usha Mahajani Memorial Prize, Association for Asian Studies, 2014
Selected Publications
"Botanical Knowledge within Itneg Weaving and Dyeing: Tracking Contemporary Negotiations with Plant-based Technologies." In Anthropological, Mathematical Symmetry and Technical Characterisation of Cordillera Textiles Project, edited by A. Salvador-Amores, 67-88. Quezon City: University of the Philippines Press, 2019.
"Diospyros embryopteris by Emina Vidal Jackson y Zaragoza, Philippine botanical illustrator." In Women in the History of Science: A Liberating the Curriculum Sourcebook, edited by R. Martin, F. Lawrence-Mackey, S. Harrison, E. Jone, and H. Wills. London: University College London Press, forthcoming.
"A Philippine Asphyxia." Qui Parle 30, no. 1 - Breath Special Issue (2021): 219-221.
"Rehabilitating Botany in the Postwar Moment: National Promise and the Encyclopedism of Eduardo Quisumbing's Medicinal Plants of the Philippines (1951)." Asian Review of World Histories 6, no. 1 (2018): 33-67.
"Toad Lily." In The Mind of Plants: Narratives of Vegetal Intelligence, edited by John Charles Ryan, Monica Gagliano, and Patricia Vieira, 391-398. Santa Fe: Synergetic Press, 2021.
"What's in a Latin Name? Cycas wadei and the Politics of Nomenclature." Philippine Journal of Systematic Biology 12, no. 2 (2018): 24-35.
"Working with Plants in the Itneg Textile Household." In Threads of Wisdom: The Mercedes Zobel Collection of Indigenous Textiles, edited by Patricia Araneta and R.J. Fernandez. London: E. Zobel, Inc.
Selected Recordings
Teaching Interests
Southeast Asian studies, area studies, Philippine history, science and technology studies, colonial world, science and empire, environmental history, academic writing and research, pedagogy