The History Department's third annual Undergraduate Research Symposium, held on May 6, 2010, featured presentations from seven distinguished UC Santa Cruz History majors as well as a special guest keynote speaker.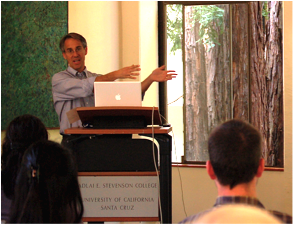 The event began with presentations centered on historical religious and moral topics. First, Briana Brooks discussed her research paper, Morality and Social Order in the Great Rising of 1381: the Problem of Legitimacy, followed by Miriam Freed with Temple to Synagogue. Last was Nichole Rupp with her paper, Faith Healing in the Christian Science Church and its Effects on Children. Matt O'Hara, Associate Professor of History, then provided additional context and commentary on the three topics.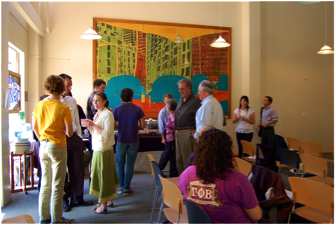 The keynote address was then given by Jeffrey Wasserstrom, who graduated from UCSC (with honors in History) in 1982 and went on to receive a Master's in East Asian Studies from Harvard in 1984 and a doctorate in History from Berkeley in 1989. Wasserstrom discussed how his UCSC undergraduate research experience affected the progression of his own eventual academic pursuits, as well as the experiences of some other Santa Cruz grads that have ended up living in Asia or doing work in Asian studies. He presented reflections on the varied ways that senior theses can influence later work--in and beyond the classroom--and the unexpected resonances that early research experiences can have later in life.
The Symposium ended with another group of undergraduates and their research on diplomatic and political issues. Huijun Katherine Chen began with her paper, U.S. Anti-Colonialism and Algerian Non-Alignment: Diplomatic Relations During the Algerian War of Independence, 1954-1962, followed by Kimberly Chestnut and her research project, Michael Collins and Intelligence during the Irish War of Independence, January 1919 - July 1921. The last papers were from Daniel Englander, The In-Between Years: Mizrachi and Palestinian Victims in Israel's Formative Period, and Steven Roy, Ottoman Power Projection and the Sixteenth Century World War. The faculty commentator for this section was Visiting Assistant Professor Rebecca Corbett.