June 5, 2013
A Message From The Department Chair
Dear History Department alumni: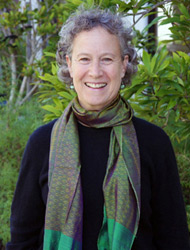 In the past several weeks I have had two occasions to appreciate the research talents, curiosity, and intelligence of our History students. On May 9, our annual Undergraduate Research Symposium featured terrifically interesting research presentations by six students, whose topics ranged from medieval pilgrims, Nahua converts to Christianity, and the Enlightenment to the creation of West Virginia, civilian killings in the Korean War, and the controversial career of a Dutch politician. It was a riveting afternoon, punctuated by a keynote speech by Anna von Gehr (History B.A. 1999), who talked about her post-college career path in terms that were alternately hilarious and inspiring. We were also very pleased to welcome Linda Peterson (History B.A. 1970), whose support has helped to underwrite prizes for undergraduate research. More details of this event are here, and student research papers will appear in the next issue of our online journal History Annals.
The second occasion was on May 30 at the Spring Awards ceremony for the Humanities Division. Twelve History graduate students were honored for their success in obtaining research support, and fourteen History undergraduates received recognition for their research (sometimes in the form of multiple awards). The afternoon concluded with spirited poster presentations, four of them by History undergraduates: Taylor Field on Sir Walter Scott's "Ivanhoe" interpretations of history, Lois Rosson on oral history in the digital age (with data from Japan), Rebecca Royston on a gendered analysis of 17th and 18th century captivity narratives and tales of Native women who married fur traders, and Lauren Young on Scottish history as constructed (and sometimes debunked) in the writings of Daiches and Trevor-Roper. (Did you know that the kilt was a fairly recent English invention?)
In short, we have much to be proud of. And the good news does not end there. This year the History Department hired three new tenure-track professors, who will join our faculty July 1. Watch for details in subsequent issues of History Matters. In the present issue, look for the profiles of Professor Jennifer Derr, alumna Rhiannon Schade, and Ph.D. candidate J. Dustin Wright. In between issues of HISTORYMATTERS@UCSC, you can keep up with History Department activities by "Like"-ing our Facebook page, joining our Group on LinkedIn, and following us on Twitter.
This will be my last History Matters message as Chair. On July 1, Mark Cioc will become Chair of the History Department, and I will return to finishing a Chinese history textbook, teaching, and research. It has been a pleasure to help rebuild the department in the wake of the retirements of many of our most beloved colleagues, and it has been a pleasure to help create History Matters and connect with our talented and diverse community of alumni. Please continue to support us, and please, as always, let us know where you are and what you are up to.
With best wishes for a fine summer,
Gail Hershatter
Distinguished Professor and Chair
Department of History
New Faculty Profile: Jennifer Derr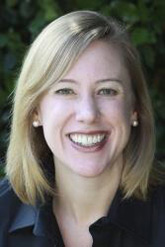 In Fall 2012 the History Department welcomed Assistant Professor Jennifer Derr. Her research explores the contemporary history of the modern Middle East. She is particularly interested in questions of political economy, the production of geography, and new forms of space during the nineteenth and twentieth centuries. She teaches courses in the history of the modern Middle East, Ottoman history, environmental history, world history, and post-colonial politics. Derr received her Ph.D. in History from Stanford University with a dissertation entitled Cultivating the State: Cash Crop Agriculture, Irrigation, and the Geography of Authority in Colonial Southern Egypt, 1868-1931.
Derr is currently working on a manuscript detailing the construction of the environment surrounding the Nile River in colonial Egypt and its relationship to the practice and experience of the colonial state. The manuscript critically considers the endeavors of the British colonial administration to engineer the Nile River, most notably with the construction of the 1902 Aswan dam and its significant interventions in Egyptian agriculture.
Derr's research has been supported by the Fulbright-Hays Commission, the Social Science Research Council, the American Research Center in Egypt, the Mellon Foundation, and the Institute for Historical Studies at the University of Texas at Austin.
Derr received a B.S. in Biological Sciences with a minor in Middle Eastern history from Stanford University and an M.A. in Arab Studies with distinction from Georgetown University. She first began studying history after spending a semester studying in Cairo during college. The initial experience of living in the Middle East was transformative. Since receiving her bachelor's degree, she has spent nearly a decade living in the region; part of that time was devoted to teaching at the American University in Cairo.
Derr believes that the craft of producing and teaching Middle Eastern history is intimately bound up with the experience of living in the region, immersed in its history, politics, and culture. She encourages students to think about history as it has been lived and experienced, and to become aware of how it remains significant in the contemporary moment. She also encourages students to travel and encounter history firsthand. Coming to UCSC was exciting for Derr because of the caliber of the work that is being done within the history department and the university as a whole. She is pleased to be a part of our community of scholars and students.
Where They Are Now: Rhiannon Schade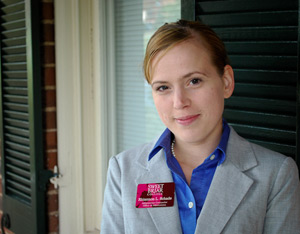 Rhiannon Schade chose to attend UCSC for its interdisciplinary opportunities, accessible professors, strong identity, and stunning campus. All of these aspects of the university helped Schade excel and she graduated from UCSC in 2011 with a degree in History and Economics. Schade then went on to earn an M.S. in Higher Education from the University of Pennsylvania in 2012. She currently works as an admissions counselor for Sweet Briar College in Virginia and enjoys traveling around the country helping prospective students with their college search process.
Schade was a tour guide with UCSC Admissions during her undergraduate career. This position exposed her to the ways in which students make decisions about where to attend college. Schade says admissions work "pulls directly from the skills I learned studying history and in economics. By the time I was in my senior year of college, I knew that I wanted to pursue an advanced degree in education and become a college admissions officer."
Schade first took a history course at UCSC to fulfill a general education requirement. She was persuaded to major in history by Dr. Marilyn Westerkamp's passion for history and teaching methods, as well as the encouragement of Stephanie Sawyer, the Undergraduate Advisor. Under the direction of Assistant Professor Catherine Jones, Rhiannon Schade completed her senior thesis entitled, "For All to Learn": How African Americans Shaped Educational History in Nineteenth-Century Mississippi. Her thesis strives to examine the undertaking of African American education in Mississippi from the antebellum period through the early twentieth century.
"Studying history, particularly at an institution like the University of California, Santa Cruz, where there is tremendous depth and variety available within the department, prepares you for anything," says Schade. She emphasized that attending networking events sponsored by the History Department, along with skills honed in history courses such as a developed writing style, detail-oriented analysis, and an awareness of connections, helped her transition into the professional world. She says, "In education, it is vital to know your students well and to understand how they make decisions. You also need to be a pretty good writer and speaker. You need to be good at representing your institution and looking for the ways in which it might fit in with the kind of experience your students want to have in college. Studying history was excellent preparation for my career in college admissions."
J. Dustin Wright, Fulbright Winner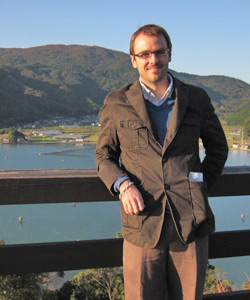 James Dustin Wright, a History Ph.D. student, won the prestigious Fulbright-Hays award in the fall of 2012. Fulbright-Hays grants are awarded by the U.S. Department of Education to help fund overseas research conducted by doctoral students in other countries in modern foreign languages. Dustin received sufficient support to allow him to spend a full year in Japan working on his dissertation research.
Dustin received his B.A. in International Affairs with a minor in Japanese from Northern Arizona University. After several years teaching English in Japan, Dustin received a Master's degree in Asian Studies from San Diego State University.
Currently a fourth-year Ph.D. student studying modern Japanese history, Dustin says, "I was drawn to the history program [at UCSC] because I became increasingly less interested in the large political questions around the U.S.-Japan relationship. I wanted to know more about the people who live around those U.S. military bases." Dustin's advisor, Alan Christy, observed, "surprisingly little work has been done in Japanese history on the history of US bases in Japan. Most American historians of Japan have treated it as an issue for US history and policy, unlike our Japanese colleagues. Dustin's dissertation, particularly with its emphasis on the impacts bases have had on the lived environments of postwar Japan will fill a long-neglected gap. This is work that has the potential to pave the way for work by many other scholars as well."
Now living and researching in Japan, Dustin's dissertation research is on the relationships between US bases in Japan and the communities that surround them. In particular, he is examining a series of protests outside U.S. military bases in western Tokyo and Iwakuni. In Tokyo, he is researching an event wherein "a group of farmers launched a movement--later called the Sunagawa Struggle--to prevent the expansion of Tachikawa Air Base onto nearby farmland. The struggle lasted for years, and often turned violent. When some of the protesters were arrested for trespassing onto the base, their defense argued that the presence of the bases violated Japanese sovereignty and the protesters had not trespassed onto a space that was legally recognizable. The trial went all the way to the Japanese Supreme Court, who eventually sided with the U.S. military in arguing that the military bases were not part of Japanese sovereign territory." He is currently searching through records written by the protesters to finding evidence that these protests were not simply anti-U.S. military, but that protesters had motivations based on the necessity to protect farmland and livelihoods.
While in Japan, Dustin is also doing research in the city of Iwakuni, which has housed a large U.S. Marine base since the end of the World War II. In Iwakuni the long history of anti-base struggles rarely registered among the political elites in Tokyo. Dustin has discovered that "not only are protesters trying to get the attention of the U.S. military, they also struggle to gain recognition from the national government."
When Dustin visited Japan last year, he spent considerable time talking with people who have lived next to the base for decades. He learned that the military base has very much become a part of their life experiences, which is partly why he finds this topic so interesting. In the bigger picture of the global "empire of bases," he thinks that the American military bases are always local before they are global.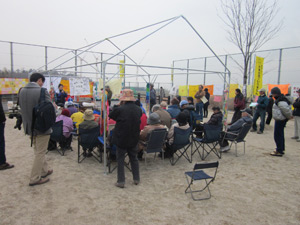 Pictured to the right are a group of residents who gather monthly to protest against the construction of U.S. military housing in Iwakuni.
Upon his return to UCSC and completion of his degree, Dustin plans to become a professor of Japanese history or East Asian history. "I love teaching and being challenged by students' questions," said Wright. "In fact, my dissertation project has in many ways been influenced by conversations with my students."
Wright will be blogging about his time in Japan in affiliation with the Japan Policy Research Institute, at dustinwright.org.
His website: http://people.ucsc.edu/~jdwright/