May 25th, 2012
Wrapping up the year...
The 2011-12 academic year is coming to a close, and it's been a big one for the UC Santa Cruz Department of History. Awards have been won by faculty and students alike, books have been published, papers presented, and of course, many students are graduating in just a few short weeks, joining the ranks of our department's prestigious alumni. In this year's final edition of history matters @ucsc, we hear from Alan Christy, Associate Professor and winner of this year's John Dizikes Teaching Award in Humanities, and History major Cory Schiff, who explains the intriguing research that's earned him a HUGRA (Humanities Undergraduate Research Award).
As you know, the University of California continues to face budget cuts. Now at the end of the academic year, we hope that you will consider making a donation to the History Department. We in History are focused on engaging and inspiring our students every step of the way, from the first survey course they take through their senior year seminars, encouraging them as they pursue unique undertakings such as the ROUTES project (see Alan Christy, below).
Gifts made to History allow us to continue giving our students a nurturing, rigorous, and transformational academic experience. Of course, we welcome contributions at any time, but they are especially needed now as our fiscal year comes to an end June 30. Please support our department by donating today.
Alan Christy wins the Dizikes Teaching Award
The work I've been doing with the ROUTES team has been, far and away, the best teaching experience I've had in my career. It started with my History 150D class last winter, The Japanese Empire. I decided at the last minute to throw away the orderly, lecture-based syllabus I had planned and invite students to help me tell the life story of a former Japanese soldier, putting real responsibility in their hands. By the end of the quarter, I was amazed to have 30 of the 44 students come to me asking to keep working on what was now not a class, but a "project," after the quarter was done.
Inspired, I responded by going big: sixteen students and I traveled to Japan for two weeks to delve further into the project. By the time we came back, the students had even more audacious dreams. They came back not just wanting to tell the story of one man, but to tell the stories of millions of people whose lives were displace by the end of World War II and the advent of the Cold War. Throwing themselves into the libraries and the archives, they have excavated more lives whose stories are equally implausible, yet as real, as our original Japanese soldier's. They have come back not just thinking about making a website or a textual narrative, but wanting to reinvent the way history is told, determined to produce by their own efforts an app that would not just be multi-media, but non-linear, fluid, collaboratively and student-authored across languages, continually evolving. They have come back not just thinking of themselves as a project, but as a publishing enterprise. Can you imagine? Right now, the ROUTES team believes that what they are doing matters in a really big way. And so do I.
Alan Christy
Associate Professor of History
Historical Researchers: the Detectives of the Humanities Division
by Cory Schiff, History major and HUGRA winner
If only life were black and white, cigarette smoking didn't kill you, and femmes fatales did not come in such short supply. Surely then I could compare myself to the late Humphrey Bogart and the film noir Private Eyes of the mid-20th century. The glamour and appeal of these movies come from the characters, but also from the mystery and the thrill of solving puzzles. In the same way, I have found that historical research can be a form of detective work. Granted there is no badge to flash, no dress code of top hat and trench coat, and admittedly fewer guns are involved, but despite these glaring differences I have found some similarities.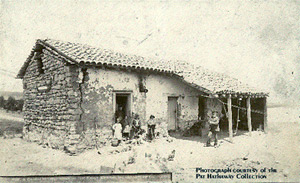 My recent research on the La Mirada house in Monterey stemmed from the need to learn more about the shrouded mystery of its past. The house is currently incorporated into the structure of the Monterey Museum of Art, and the history of the building, stretching from the early 19th century to the present day, had never been thoroughly researched. The original structure has survived through the three different regimes of the Spanish, Mexican, and United States control of California. Looking at the lives of residents in the La Mirada home during these different periods--many of whom played significant roles in the national governments during their residence--allowed for the history of the home to be representative of a larger narrative of California history.
Getting hold of such old and specific information, however, was by no means easy. Searching for these sources took me on an adventure all over Northern California. A clue found at the Monterey county recorder's office would lead me to the archives of the Bancroft Library in Berkeley, and sometimes clues would lead me in wrong directions entirely. On other occasions, however, they would rapidly expand the mere kernels of knowledge I had possessed before. Though my "investigation" rarely involved life or death situations (save for the heart attack I nearly had upon losing my copies of primary documents), the reward of bringing to light events of a history many have never heard before is exhilarating. Although I can't say for certain what it felt like for good old Humphrey after closing a case, I imagine his feeling of accomplishment was not too different from my own experience helping to solve the mystery of La Mirada.
Cory Schiff is a rising fourth-year student at UC Santa Cruz.
History Department News
First annual Graduation Celebration
We are pleased to announce the first annual UC Santa Cruz History Department Graduation Celebration. This celebration will be for all graduates of the 2011-12 Bachelors of Arts (B.A.) programs in History, Classical Studies, Jewish Studies, and German Studies, and their families. This event is not a commencement ceremony, but is an opportunity for teachers and students to celebrate their achievement together. There will be a short program of remarks, and all students will be presented with a graduation cord for their respective major.
Introducing our new button!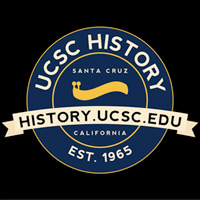 We are thrilled to unveil the winner of our first ever Button Design Contest (right)! The winning button was designed and submitted by History major Trevor Ezaki. Buttons are available in the History department office on campus.