December 13th, 2012
A message from Gail Hershatter, Department Chair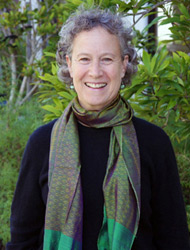 As the Fall Quarter of 2012 winds down, I am pleased to send you our end-of-year issue of HISTORYMATTERS@UCSC. This issue features profiles of three people: our new professor of Russian and Soviet history, Maya Peterson; 2008 alumni James Casey, who is studying Syrian history at Princeton; and Emily Johnson, a senior History major who recently returned from the UC Education Abroad Program in Egypt.
As always, we encourage you to visit the History Department web site at http://history.ucsc.edu/. There you'll find information about our faculty and students. We are particularly proud of our student journal of undergraduate research, UCSC History Annals.
I am also delighted to report that the History Department is conducting two searches for new faculty members this year, one in South Asian history and the other in Chicano/Latino history. We will keep you posted.
In between issues of HISTORYMATTERS@UCSC, you can keep up with History Department activities by "Like"-ing our Facebook page, joining our Group on LinkedIn, and following us on Twitter. Please also check out the Routes Project, a collaborative group of UCSC faculty, students, and alumni, which is using digital media to enhance East Asian Studies. You can follow their winter break trip to Japan on the Routes Facebook, Twitter, or Tumblr pages.
Finally, I ask for your help in continuing to support the work of our faculty and students. As you may know, the recent passage of Proposition 30 allowed us to avoid further catastrophic budget cuts, but the university has sustained considerable damage over the course of the recent crisis. We would like to do much more to support student research, and we need your help to do so. If you are able to support our ongoing programs and student projects with a year-end gift, it is easy to do so by visiting Giving to the History Department. I thank you in advance for considering this request.
With all best wishes for a peaceful and healthy new year.
Gail Hershatter
Distinguished Professor and Chair
Department of History
New Faculty Profiles: Introducing Maya Peterson
The Department of History is pleased to welcome to our faculty Assistant Professor Maya Peterson. Peterson's research stands at the intersection of environmental history and imperial history. She explores the inner workings of empires and how they function by focusing on how the physical environment of an empire might open up new avenues for thinking about modernity and colonial relationships. Peterson received her Ph.D. from Harvard University in 2011, with a dissertation entitled "Technologies of Rule: Empire, Water, and the Modernization of Central Asia, 1867-1941."

Peterson's dissertation examines tsarist and Bolshevik efforts to irrigate the Central Asian borderlands. It discusses how such hydraulic engineering projects reflected Russian imperial and Soviet notions of civilization and progress as well as Russia's quest to be a European empire in the heart of Asia. Peterson was awarded the Fulbright IIE Fellowship, a Fulbright Hayes Fellowship, and a Social Science Research Council Dissertation Fellowship to help fund her dissertation research. She is currently working on a book based on this dissertation, as well as finishing several articles.

Peterson became interested in the Soviet Union after growing up during the last decade of the Cold War. During her undergraduate career at Swarthmore College, where she completed her B.A. in History with a minor in Russian, Peterson was able to study Russian language, literature, history, and culture. Through her studies she became interested in the ecological issues of the region and their effect on the development of the culture and empire.

Peterson is excited to "be part of such a dynamic department that cares equally about producing innovative research, educating, and mentoring students at the undergraduate and graduate levels."
Where They Are Now: Alumnus James Casey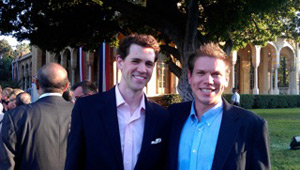 Graduating in 2008 with Highest Honors, James Casey has continued to be an exceptional student and historian. Now a student in Princeton's Ph.D. program, he seeks to understand the political and social effects of French
colonialism on the Middle East, with particular focus on Syria and Lebanon.

During his undergraduate education, Casey was able to go abroad and spend time in Egypt. This pivotal experience gave structure to his undergraduate education, allowing him to become more familiar with the history of the region and directing his further studies. Not only did his time in Egypt improve his language skills and give him the opportunity to explore the region, it also made him a competitive applicant for scholarships and fellowships.

After returning from Egypt, Casey completed a senior thesis entitled "Failure of Fantasies: The Historical Problems of the French Mandate in Syria," which investigates the problems of the colonial project in Syria and Lebanon. His thesis strives to understand why colonialism worked within the Mandates as it did in Syria and Lebanon in comparison to other regions, such as the Tunisian Regency, the Moroccan Protectorate, and the departements in Algeria. Casey was able to present his findings during the History Department's first Undergraduate Symposium.

In 2011, Casey was awarded a Master's degree in Middle Eastern Studies from the University of Texas, Austin. His thesis, "On the Traumatic Origins of Political Community in Modern Syria," argued that the origins of modern political community in Syria are best understood as having emerged in the context of intense social, physical, political, and intellectual trauma.

After graduation, James Casey won a highly competitive Fulbright fellowship, which enabled him to spend a year in Syria. There he worked at the Asad National Library and the Damascus Historical Documents Center, where he looked at newspapers from the first ten years of the French Mandate. He used the newspapers to study how the nation was talked about during the Mandate. In particular, he examined the vocabulary used to talk about this political entity that did not have a real historical precedent.

He is currently in his second year of study at Princeton University. Casey's dissertation will examine the political and social role of waaf, pious endowments, during the first decade of the French Mandate.

"My motivation for studying history was that it had been my passion since childhood," James Casey said. "I can't recall a time when history didn't fascinate me."

Unconventional Education: Traveling Abroad
by Emily Johnson, History Major
Deciding to study abroad through EAP was the greatest decision of my undergraduate career. Living in Egypt gave me insight into a world completely different from my own; I got to experience a whirlwind of different cultures, people, foods, places, and languages that broadened my own horizons more than any conventional educational experience could have. I know some people want their undergraduate years to be spent in one place, where it's comfortable. You might even think that you can always travel later in your life, that year you take off after graduation, or when you're retired. The Education Abroad program, however, gives you the best traveling experience and benefits, at the most optimal time in your life. Earning college credit, learning a new language, and experiencing actually living and traveling in a foreign country with the expertise of advisers and professors helping you along the way are just a few of the aspects of the education abroad program that place it light years ahead of any other traveling experience you may have in your college career, and possibly even your whole life.