September 27, 2012
A message from Gail Hershatter, Department Chair
With this issue we inaugurate the second year of History Matters, a quarterly e-publication for alumni and other friends of the UC Santa Cruz Department of History. Our Fall issue introduces Professor Marc Matera, a historian of the British empire and one of three new members of the History faculty. Watch for profiles of our other new faculty, Professors Jennifer Derr and Maya Peterson, in forthcoming issues.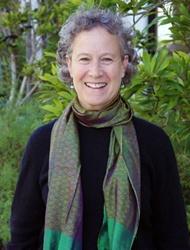 We are also pleased to keep you informed of the terrific work done by our current students. In this issue Kris Hellen, an undergraduate History major, reports on his research work in the Mari El Republic east of Moscow, where he encountered cultural assimilation and loss of a local language as they played out in a family and a community.
In between issues of History Matters, follow us on Facebook AND Twitter.
In future issues we are particularly interested in profiling alumni. If you are doing something interesting (we are sure you are!) please drop us a line at historymatters@ucsc.edu or allow us to follow you on Twitter by tweeting "follow me" at UCSCHistory.
Finally, we ask you to support the work of the History Department in any way you can. It is not a secret that the University of California is no longer adequately supported by the state. Increasingly, we rely upon outside research funding and private contributions in order to maintain the high quality of our program. Your gift to the Department will enrich our local learning environment by supporting student research projects, guest speakers, and other activities that make the History major vibrant. Please assist us in providing our students with a learning experience as compelling as the one you enjoyed at UC Santa Cruz.
We wish you an interesting and productive Fall season.
With all best wishes,
New Faculty Profiles: Introducing Marc Matera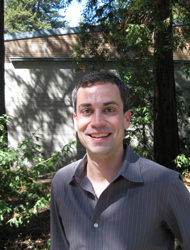 The Department of History is delighted to welcome to our faculty Professor Marc Matera, whose research explores gender and race in imperial Britain and the British Empire, especially colonial Africa and the Caribbean. Matera will teach modern European and global history, with particular attention to the British Empire and the Atlantic World.
Matera's book The Women's War of 1929: Gender and Violence in Colonial Nigeria (Palgrave Macmillan 2011) was co-authored with Susan K. Kent and Misty Bastian.
The Women's War, an uprising of tens of thousands of women, rocked the British colonial state in southeastern Nigeria in late 1929. The book considers this event from the perspective of local women in the region, examines the history of British colonialism in Nigeria and British representations of African women, and looks closely at the colonial officials responsible for the violent suppression of this women's movement.
Matera is completing revisions on a second book, Black Intellectuals in the Imperial Metropolis, detailing the lives of people of African descent in London between 1919 and 1950. Between the two World Wars, colonized people from across the British empire were drawn to London, creating a dense network of political linkages, cultural expressions, and personal relationships that later helped to shape the postcolonial world. Matera's work recreates that era and examines the future that black intellectuals in London imagined at a moment of international ferment.
Matera has also published articles in the Journal of British Studies and Twentieth Century British History. He holds a B.A. from the University of North Carolina, Chapel Hill, where he first developed a love of history and feminist studies. Initially a journalism and creative writing major, he was inspired to study history by two professors—one a German studies and feminist scholar, the other a historian of modern Britain who first introduced him to black British history. At the University of Colorado, Boulder, where he earned his M.A., and at Rutgers University, where he received his Ph.D., he writes that he "was mentored by brilliant teacher-scholars who continue to inspire my teaching and inform my research interests." Before joining the UCSC faculty, he taught for four years at Northern Arizona University in Flagstaff.
Historians can change the world
by Kristoffer Hellen, Undergraduate History Major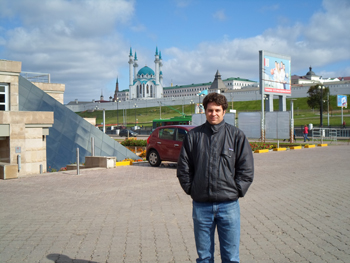 If my field research this summer in Russia and Europe has taught me anything, it is that a historian can change the world. My travels brought me into contact with some highly regarded historians, and I also had the opportunity to listen to speeches by the presidents of Finland, Estonia, and Hungary. But the one person who gave me the most food for thought was a young woman who requested to be called Olga. Her family hosted me in Yoshkar-Ola, the capital city of the Mari El Republic in Russia (a day's journey by train east of Moscow). The Mari are an ethnic group who speak a Finno-Ugric language, which belongs to a linguistic family completely unrelated to the other Indo-European-based languages of Europe and is represented in Western Europe only by the Finns, Saami, Estonians and Hungarians. There are also many Finno-Ugric peoples scattered to the east, the original inhabitants of the northern half of European Russia, and as a Finnish citizen myself, I have developed a special interest in these mysterious cousins of the Finns. When I got the green light to be hosted for four days this September in Yoshkar-Ola by Olga's family, I ordered a super-expedited tourist visa, picked it up the next evening, and before another day passed, I was on an overnight train from Moscow to Yoshkar-Ola.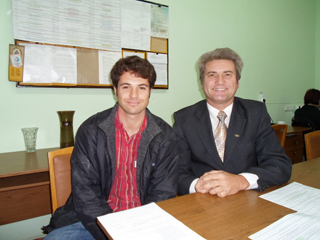 I was not sure what to expect. The Mari people have had a difficult history with Moscow. Most of the Mari lived under the Islamic Kazan Khanate, but after Kazan surrendered in 1552 to Ivan the Terrible, war did not end for the Mari for another fifty years. Half of the Mari population died during the so-called Cheremis Wars. Under Tatar rule, the Mari had been allowed to practice their original religion, but under the Russians, whole Mari villages were driven en masse into rivers and declared baptized. This civilizing mission seems to be a common feature of imperial states and in some ways continues to this day. The Mari El Republic is currently one of the poorest regions in all of Russia, and is not exactly a magnet for foreign tourists. Thus, I did not know what I was getting into. I only knew that this was an opportunity that I had to take. How could I, as a historian, be too afraid to visit the region I wanted to specialize in, and have any authority to write about them?
Olga greeted me at the train station. The main reason for staying with her is that she lived in the United States and speaks perfect English, just like an American. Since my Russian is still quite poor, I was in need of translating assistance, and she was more than happy to help. Olga's father is a professor at Mari State University, so he knew all the best people for me to interview.
There was probably no better family for me to meet in the whole Mari El Republic. Olga was not what I expected of a Mari girl. She would fit right in at UCSC. She did yoga stretches while translating between me and her father, and later quarreled with him about the skirt she was going out in. It could have been a scene from any American household. At the back of my mind, however, I realized that Olga's family is a microcosm for why the Mari culture is dying. A person's mother tongue is perhaps the most intimate part of a person's identity. Both of Olga's parents grew up speaking Mari, but Olga speaks with them in Russian. She never learned Mari, as is very typical of children growing up in an urban setting. After all, why should she learn Mari? Speaking Mari opens no doors. On the one hand I saw Olga as a unique individual, yet on the other hand, I could see that she is also a statistic. A whole people does not become assimilated from above - it happens at an individual level. Every person's story is unique. Yet these individual stories add up and create a trend, and these trends do not look good for the future of the Mari people.
But this story has a hopeful ending. As I interviewed various people with Olga as my translator, she emerged from the experience with a new appreciation and curiosity for her rich and unique heritage. She was especially fascinated by its influence from the Volga Tatars, which she did not know was so important. It is unfortunate that the Mari people have not been done any justice by historians because getting Olga interested in her own people's history raised her pride in being Mari and she is now more interested in seriously studying her own language. It is by influencing individuals in true grassroots fashion that a historian can affect larger trends and, in no uncertain terms, change the world.