October 13, 2014
Fall Greetings
Dear Alumni,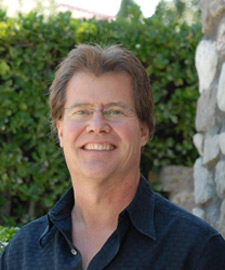 In this issue of History Matters we are pleased to keep you informed of the terrific work that is being done by Tom Beckett, an alumnus with an extremely successful Kickstarter campaign, and Professor Dana Frank, who testified at the State Capitol in support of refugee children. You'll also find photos of summer fieldwork being done by The Gail Project.
History Matters is an e-publication for alumni, which is distributed quarterly. It features news about students, faculty members, alumni, and other matters of importance to the History community of UC Santa Cruz. History Matters takes advantage of the booming virtual community to help forge connections between alumni scattered across the globe and the UC Santa Cruz history community.
In between issues of HISTORYMATTERS@UCSC, you can keep up with History Department activities by "Like"-ing our Facebook page, joining our Group on LinkedIn, and following us on Twitter.
We appreciate your continued interest in History at UC Santa Cruz.
Best wishes,
Mark Cioc
Professor and Chair
Department of History
History Alumni Find Unconventional Success
UC Santa Cruz alumni and business partners, Tom Beckett and Bar Smith, launched a Kickstarter campaign for their CNC (Computer Numerical Control) router and the results far surpassed what they thought was possible. The pair succeeded in reaching their initial goal of $10,000 in 8 hours and managed to raise $82,207 in the span of a month. Their router also won second place and $3,000 in UCSC's Entrepreneurship Showcase.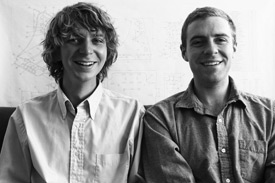 Bar Smith, an electrical engineering student designed the CNC router as an affordable way to turn his ideas into prototypes. After designing the router, Smith formed a partnership with Tom Beckett and they named their company Makesmith.
Tom Becket, originally form Santa Clarita, came to study at UC Santa Cruz in the fall of 2009. He graduated in the spring of 2013 with a degree in History and a minor in Technology and Information Management. Tom has always had a passion for all thing start-up, business, and entrepreneurial.
He says, "The combination of my major and minor caught many people off guard, but the dynamic proved very useful and fulfilling for me."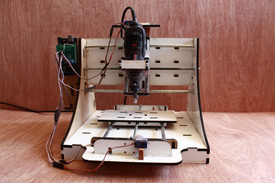 Tom originally intended to major in Business Management Economics but changed his route to history when he did not find his Business classes to be captivating. He felt the switch was a logical one because he was performing well in the History classes that he had originally enrolled in to fulfill general education requirements.
Tom says, "Studying History at UC Santa Cruz taught me several fundamental skills and work habits that I utilized during the Makesmith CNC project. I had to do a lot of different types of research such as understanding how to create a crowdfunding project, researching the CNC market, and learning how CNCs function. With no engineering background, it took a great deal of concentration to get through the material. By studying History I really learned how to sit down and research topics I knew little about, begin to critically think about them, and then present them in a way that various audiences could understand them. Additionally, the History major also helped me polish many social skills I had through group projects. Unlike a lot of other majors, I found that the personalities within the department greatly varied from person to person significantly more than in other fields. I learned how to effectively communicate, coordinate, and facilitate in different forms to different types of minds."
When commenting on Tom's success, Associate Professor Greg O'Malley notes, "It pleases me (but doesn't surprise me) to see him succeeding in a business venture now. He was always a strong student in his classes here, but he tended to do particularly well with assignments and projects that gave him free rein to choose his own topic and be creative. So an entrepreneurial venture seems fitting somehow. Assignments that pushed students to find their own path--to search for sources and choose which stories to tell--seemed to bring out his best work. I'm glad he thinks that historical research prepared him well to analyze problems in the business world and present his findings and proposals coherently. My first job out of college was actually also in technology, so I share his belief that the skills from studying History are more applicable to that field than many people expect."
Tom and Bar aspire to transition Makesmith CNC from a project into a sustainable business.
The Gail Project
The Gail Project is collaborative, international history project based at UC Santa Cruz. Using photographs taken in Okinawa in 1952, the participants are working to expand American-Okinawan dialogue. This summer a team of undergraduates and alumni, headed by Associate Professor Alan Christy, traveled to Okinawa, Japan to work for 2 weeks in the field. You can follow The Gail Project and see more photos from their trip on Facebook, Twitter, Instagram, and Tumblr.
History professor speaks at State Capitol in support of refugee children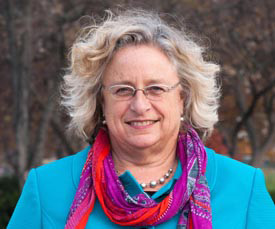 Professor Dana Frank testified this August in Sacramento to support a California State Assembly resolution on the treatment of refugees from Central America.
Frank spoke in favor of House Resolution 51, which was passed by the Assembly Judiciary Committee on a near unanimous bi-partisan vote.
The resolution calls for the humane treatment of migrant children from Honduras, Guatemala, and El Salvador who are coming to the U.S. border without their parents, fleeing from extreme violence, sexual assault, and political corruption to seek refuge in California.
"These children are not running toward the United States to gain some mythical American Dream," said Frank. "They are fleeing terrifying and proliferating violence, gangs, and poverty, and, I would like to underscore here, state-sponsored terror."
"We need to honor our country's long commitment to welcoming refugees, immigrants, and victims seeking asylum, and be sure the children are provided with legal counsel, full due process, and love, rather than treating them as cattle or dangerous alien invaders," Frank added.
"It was chilling at the hearing to hear anti-immigrant protesters from Murietta attack the Assembly members personally, using arguments made up out of whole cloth."
You can read more here.