Faculty by Research Specialization
The Department of History at UC Santa Cruz is known for its innovative research and exemplary scholarship. Our faculty work at the cutting edge of their respective fields, covering a wide variety of geographic, temporal, and thematic fields of study. The areas of specialization listed here are by no means an exhaustive list of our scholastic interests. Rather, they highlight the diverse and often overlapping ideas and approaches we explore within our teaching and research.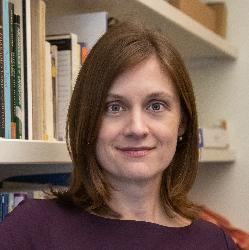 Title
Division Humanities Division
Department
Affiliations Anthropology Department, Classical Studies, Archaeological Research Center, Center for the Middle East and North Africa (CMENA)
Phone
Email
Website
Office Location

Humanities Building 1, 236

Office Hours Fall quarter: Fridays 12:30-2:30PM in Humanities; 9/29 on ZOOM only (please email for link); no office hours 10/6 or 10/13 when I am in Egypt
Mail Stop Humanities Academic Services
Mailing Address
Faculty Areas of Expertise

Egyptology; Archaeology; Digital Humanities; Virtual Reality, Immersive, and Augmented Reality Environments; Ancient World / Classics; History

Courses History 050: When Pharaohs Reigned: The History of Ancient Egypt, HIS 051: Pyramids of Earth, History 159A: Cleopatra to Constantine: Greek and Roman Egypt, History 189: @history: Doing History in a Digital Age, History 159B: Women and Gender in Ancient Egypt, History 159C: Temple and City: The Egyptian New Kingdom and the City of Thebes, History 159D: When Cities were New: the Rise of Urbanism in the Ancient Near East and Mediterranean, History 194S: Who Owns the Past?: Object Lives in the Ancient Near East and Mediterranean, HIS 208: An Introduction to Digital Humanities (Graduate Class)
Research Interests
Research interests include landscape, temples and ritual sites, women and gender, and the use of digital toolkits in historical research.
Biography, Education and Training
Dr. Sullivan is an Egyptologist and a Digital Humanist. Her work focuses on applying new technologies to ancient cultural materials. She acts as the project coordinator of the Digital Karnak Project, a multi-phased 3D virtual reality model of the famous ancient Egyptian temple complex of Karnak. She is project director of 3D Saqqara, which harnesses Geographic Information Systems (GIS) technologies and 3D modeling to explore the ritual and natural landscape of the famous cemetery of Saqqara through both space and time.
Her field experience in Egypt includes five seasons of excavation with Johns Hopkins University at the temple of the goddess Mut (Luxor), as well as four seasons in the field with a UCLA project in the Egyptian Fayum, at the Greco-Roman town of Karanis.
Because of a broad interest in the history and material culture of the larger ancient Near Eastern and Mediterranean worlds, she has also excavated at sites in Syria, Italy and Israel. Dr. Sullivan received her M.A. and Ph.D. in Egyptian Art and Archaeology from Johns Hopkins University. Her B.A. (Magna Cum Laude) in History is from Duke University.
Honors, Awards and Grants
Archaeological Institute of America (AIA) Award for Outstanding Work in Digital Archaeology, 2022
American Historical Association (AHA) Roy Rosenzweig Prize for Innovation in Digital History, 2020
National Endowment for the Humanities (NEH) Digital Publication Awardee, 2018-2019
National Endowment for the Humanities (NEH) Digital Humanities Start-Up Grant Awardee, 2015-2016
American Council of Learned Societies (ACLS) Digital Innovation Fellowship, 2012-2013
Archaeological Institute of America (AIA), National Lecture Program speaker, 2012-2013
UC Chancellor's Award for Post-Doctoral Scholarship, 2010
ARCE Dissertation Fellowship, 2005
Selected Publications
Constructing the sacred: Visibility and ritual landscape at the Egyptian necropolis of Saqqara. Stanford University Press, March 2020. https://constructingthesacred.org
"Seeking a better view: Using 3D to investigate visibility in historic landscapes." Journal of Archaeological Method & Theory, Vol. 24, issue 4. 2017.
"Digital Karnak: An experiment in publication and peer review of interactive, three-dimensional content." Co-author Lisa M. Snyder. Journal of the Society of Architectural Historians, Vol 76, issue 4. December 2017.
"Potential pasts: Taking a humanistic approach to computer visualization of ancient landscapes." Bulletin of the Institute of Classical Studies, Vol 59, issue 2, 71-88. December 2016.
"The 3D SAQQARA project: Technical Workflow for Creating 3D Environments from 2D Archaeological Data." Co-Author: Aaron Cole. Required 'White Paper' submitted to the NEH Official of Digital Humanities, 2017.
A Glimpse into Ancient Thebes: Excavations at South Karnak (2004-2006). Archaeopress: 2013.
"Teaching Digital Humanities through Digital Cultural Mapping." Co-authors: Chris Johanson, Willeke Wendrich, et. al. In Brett Hirsch (ed.), Teaching Digital Humanities: Principles, Practices, and Politics. Open Book Publishers: 2013.
"Visualizing the Size and Movement of the Portable Festival Bark at Karnak Temple." British Museum Studies in Ancient Egypt and Sudan. No. 19, December 2012.
"The Development of the Temple of Amun at Karnak." In Willeke Wendrich (ed.), UCLA Encyclopedia of Egyptology, Los Angeles: 2010.
"An Offering to Amun-Ra: Building a Virtual Reality Model of Karnak." Co-author: Willeke Wendrich. In Nigel Strudwick (ed.), Information Technology and Egyptology in 2008. Gorgias Press, Piscataway: 2009.