Faculty by Research Specialization
The Department of History at UC Santa Cruz is known for its innovative research and exemplary scholarship. Our faculty work at the cutting edge of their respective fields, covering a wide variety of geographic, temporal, and thematic fields of study. The areas of specialization listed here are by no means an exhaustive list of our scholastic interests. Rather, they highlight the diverse and often overlapping ideas and approaches we explore within our teaching and research.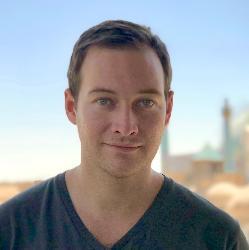 Pronouns he, him, his, his, himself
Title
Division Humanities Division
Department
Phone
Email
Website
Office Location

Stevenson College Academic Building, 279

Office Hours Thursdays from 11 am to noon. Please email to confirm or to request an alternate time.
Mail Stop History Department
Faculty Areas of Expertise

History of Science, Colonialism, Digital Humanities, Drug Policy, World History

Courses HIS 70A (Winter, 2018, 2019, 2020, 2021); HIS 196F (Fall, 2020); HIS 100 (Spring, 2020); HIS 2A (Spring, 2018); HIS 177A (Spring, 2018)
Advisees, Grad Students, Researchers Piper Milton
Summary of Expertise
I am an associate professor of history at UC Santa Cruz interested in the history of globalization, science, drugs, and the long-term impacts of technological change. My book The Age of Intoxication (University of Pennsylvania Press, 2019) explores how drug users and sellers in the British and Portuguese empires helped to shape imperialism, global trade, and scientific practice in the seventeenth and eighteenth centuries. It won the 2021 William H. Welch Medal from the American Association for the History of Medicine and is available in hardcover, paperback, and ebook formats.
Trained as a historian of the early modern era, I am currently working on two book projects (one a cultural and intellectual history of experimental drug researchers during the Cold War, another on the entanglements between colonialism, climate change, and the concept of magic between 1600 and 1900).
I am currently accepting graduate students who would like to work in the fields of early modern colonial history, the history of drugs, the history of technology, or the history of medicine.
Research Interests
Early modern world history; history of science, medicine, and technology; Spanish and Portuguese empires; history of drugs and poisons; history of globalization; history and anthropology of magic in a cross-cultural context.
Biography, Education and Training
Ph.D., University of Texas at Austin, May 2015.
Honors, Awards and Grants
2020-21 National Endowment for the Humanities Award for book in progress: The Future that Never Arrived: Experimental Drugs, Cold War Science, and the First Psychedelic Era, 1930-1980
Society of Fellows Postdoctoral Fellowship, Columbia University 2015-2016
Andrew W. Mellon Fellowship in Critical Bibliography, 2014-16
Mellon/ACLS Dissertation Completion Fellowship, 2014-15
Dissertation Fellow, McNeil Center for Early American Studies, University of Pennsylvania, 2013-14
Fulbright fellowship to Portugal, 2011-2012
Selected Publications
Book:
The Age of Intoxication: Origins of the Global Drug Trade (University of Pennsylvania Press, 2019; paperback, 2021). Winner of the 2021 William H. Welch Medal from the American Association for the History of Medicine.
Journal articles and book chapters (all available as PDFs below):
"The Failed Globalization of Psychedelic Drugs in the Early Modern World," The Historical Journal, Volume 65 (February 2022), 12-29.
"The Flip Side of the Pharmacopoeia: Poisons in the Atlantic World," in Matthew Crawford and Joseph Gabriel, eds., Drugs on the Page: Pharmacopoeias and Healing Knowledge in the Early Modern Atlantic World (University of Pittsburgh Press, 2019).
"Semedo's Sixteen Secrets: Tracing Pharmacological Networks in the Portuguese Tropics," in Paula Findlen, ed. Empires of Knowledge: Scientific Networks in the Early Modern World (Routledge, 2018).
"Empires on Drugs: Materia Medica and the Anglo-Portuguese Alliance," in Jorge Cañizares-Esguerra, ed. Entangled Empires: The Anglo-Iberian Atlantic, 1500-1830 (University of Pennsylvania Press, 2018).
"Drugs and Early Modernity," History Compass, Vol. 15, No. 4 (April, 2017).
"No Man Is an Island: Early Modern Globalization, Knowledge Networks, and George Psalmanazar's Formosa," The Journal of Early Modern History, 17/4 (August, 2013), 391-417.
"Hybrid Atlantics: Future Directions for the History of the Atlantic World," History Compass, 18/8 (August, 2013), 597-609.
"'The Elks Are Our Horses': Animals and Domestication in the New French Borderlands," Journal of Early American History, No. 3 (December, 2013), 188-205
"Portugal, Early Modern Globalization and the Origins of the Global Drug Trade," Perspectives on Europe, Vol. 42, No. 1 (Spring 2012), 84-88.
Selected popular writing:
"Our Strange Addiction," Lapham's Quarterly, March 15, 2021.
"'Theire Soe Admirable Herbe': How the English Found Cannabis," Public Domain Review, February 19, 2020.
"Palm Trees and Potions: On Portuguese Pharmacy Signs," The Recipes Project, July, 2016.
"Into the Mystic," Aeon Magazine, 2015.
"Victorian Occultism and the Art of Synesthesia," in The Public Domain Review, 2014.
"The King of the Islands of Refreshment" in The Appendix, 2014.
"The Literature of Laughing Gas," in The Paris Review, 2014.
"The Pre-Modern History of Outer Space," in The Atlantic, 2013.
Teaching Interests
- Early modern science, medicine, and technology
- History of the Iberian peninsula and of the Spanish and Portuguese empires
- History of drugs and poisons
- Travel writing of the 17th and 18th centuries
- History of magic